Dog training should be fun… and the more fun it is, the more you and your dog will accomplish.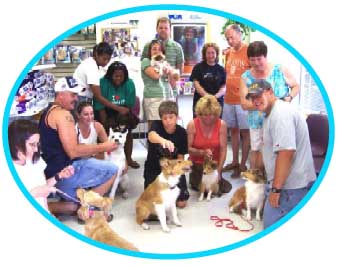 Our 7-week puppy program covers all the basic commands…plus lots of practical "extras" other classes may not offer—great tips to help keep your pup safe, happy and healthy... and help you keep your sanity!
Our group puppy class meets in a spotless, climate-controlled indoor space (courtesy of VCA-Columbia Animal Hospital at Hickory Ridge).
We cover lots of essential material in manageable "bite-sized" chunks, with time for questions and demonstrations.
Group class benefits for puppies & humans:
• It's a fun, inexpensive way to teach puppies good manners
•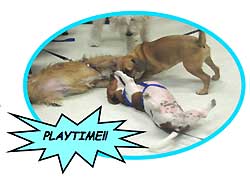 You'll learn the practical applications of
puppy education
• Puppies get to socialize and play
• Humans get hands-on coaching
Class size is limited to 10 dogs—big enough for beneficial puppy socialization and play, small enough for you and your puppy to get individual attention.
Family members (over age 7) are welcome.
COST
$120 for the whole 7-week class, 1 hour per week (that's about $15/hour—a bargain!)

LOCATION
VCA-COLUMBIA ANIMAL HOSPITAL AT HICKORY RIDGE
10788 Hickory Ridge Road, Columbia, MD, 21044
(corner of Hickory Ridge Road and Cedar Lane)
Please call us at (410) 796-5349 for schedule and details on
our next class.
Here's our Group Puppy Class curriculum:

CLASS 1 - Orientation
• The Two Commandments of Training
• Who's in Charge? How Dogs Think
• Making Training Fun!
• Leash in the House

CLASS 2
• Getting Pups to Pay Attention
• Clicker training!
• "Sit"
• Biting, Nipping & Growling




CLASS 3
• "Come"
• "Sit-Stay"

CLASS 4
• "Down"
• "Wait!"

CLASS 5
• Heel: Good Leash-Walking
Manners
• The "Give" command

CLASS 6
• Good Toys & Bad Toys
• Dental Health for Long Life!
• Bathing & Grooming Tips
• Teaching Pups to Relax:
Belly Rubs for Fun & Profit

CLASS 7
• Tips for Happy & Safe Car Trips
• Puppy Intelligence Puzzle Games
• Teaching Fun Tricks