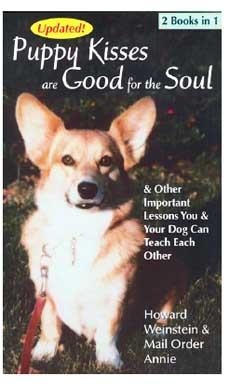 By Howard Weinstein & Mail Order Annie
(Puppy Paws Press paperback- 224 pages, photos;
ISBN: 1-893407-06-3)
A Welsh Corgi Puppy named Mail Order Annie honked car horns, vanquished baby gates, schemed after cookies, donuts, and room-service sandwiches, starred at Star Trek conventions… and charmed everyone she met. But charm doesn't mean a puppy won't eat the kitchen walls!
Best-selling author-turned-trainer Howard Weinstein tells Annie's story in a truly universal dog book — giving new pup-owners training tips and a clear idea of what to expect from life with a wonderful dog — helping current pet-owners get the most from the human-canine relationship — sharing stories to touch the hearts of all dog-lovers.
Written with a journalist's eye for detail, a novelist's story-telling skills, and a professional trainer's experience.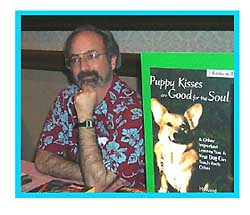 "There are lots of great training books, and I've read quite a few. But two things bugged me about most of them. First, most trainers who write these books apparently never made any mistakes themselves… or at least none they're admitting to in print! Second, I never saw a training book that told readers what it was like to live with a dog for 15 years. So I wrote Puppy Kisses to fill those gaps.
"Mistakes are how we learn, and I've made just about every typical puppy-raising mistake. They're all here in Puppy Kisses— and so are the lessons those mistakes can teach us.
"Puppy Kisses also explains how early training fits into a dog's whole life.

And it offers a road map to help you get the most enjoyment from years shared with your own great dog!"


"…A humorous, touching and honest account of the author's fifteen years as the companion of Mail Order Annie, a Pembroke Welsh Corgi... Mr. Weinstein captured Annie's personality and spirit, and truly brought her to life on every page... What sets this book apart from others is how honest Mr. Weinstein is in covering the mistakes he made as he and Annie grew together... This is a wonderfully insightful book for new puppy owners... The funny thing about Annie is that she was no more special or extraordinary than my dog or yours. But what Mr. Weinstein manages to do is write the beautiful memoir that I would want to write for my dog."
Heather Gilpatrick, Maryland - Editor, THE TIDE
(newsletter of the Pembroke Welsh Corgi Club of the Potomac)
"…The author's touching, funny, and perceptive history of his 15-year relationship with Mail Order Annie provides humor and insight into the special world of those who choose to share our lives with the Pembroke Welsh Corgi. His practical and well-designed training chapters…include much more than basic obedience. This little book is a treasure…"
Claire McClure, Florida - Breeder (Tim Tam Pembroke Welsh Corgis)
AKC Obedience Judge Emeritus
"As someone who is thinking about getting a dog, but still waiting for the right moment, I was so touched by this story. Weinstein's writing is honest, intelligent, and genuinely funny and his training advice seems on the money."
Maria P Rivera, New York
"Unique, and wonderful! Howard's excellent advice is applicable to all breeds, not just Corgis. And the story of Mail Order Annie will melt your heart."
T. J. Burnside Clapp, California
"The title of this book is flat-out stupid. Don't let that turn you away from this great book."
Wendy A F G Stengel, Washington, DC
"…Reaffirms the journey of joy, love, frustration and memories created through pet ownership… Through Howard's open way of sharing his memories, I relived numerous memories of my own pets— and also of the many animals I have treated over the years. He incorporates both the development of his relationship with Annie and the important basics of owner responsibility…"
Dr. David Tayman, DVM, Maryland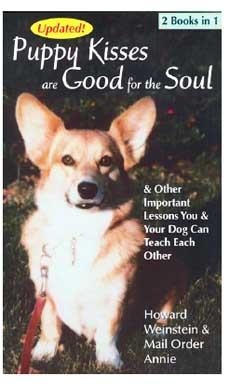 Order your own paperback copy of
Puppy Kisses are Good for the Soul
(& Other Important Lessons You &
Your Dog Can Teach Each Other)
Cost: $16 per copy (including standard shipping by Postal Service Media Mail; takes 1-2 weeks)

Payment: check, money order, or credit card (through PayPal). (Please make checks and money orders payable to Howard Weinstein.)

Speedy shipping: Priority Mail (takes 2-4 days; add $5.00 for 1 book, $7.00 for 2-3 books, $10.00 for 4-6 books)
Send order and payment to:
Puppy Paws Press
7814 Edmunds Way
Elkridge, MD 21075
Copyright © 2010 Puppy Paws Press. All rights reserved.